Water Damage Restoration St. Paul MN
Rapid Response Time
We will show up on location in less then 60 minutes to any area in St. Paul Minnesota. No matter what time it is, when you call Service Restoration St. Paul you will get a live person ready to send a crew fast.
Learn More
Full Service Restoration
At Service Restoration St. Paul, we offer a total water restoration service to guarantee that all of the water will be removed and everything will be renewed to how it was before the damage occurred.
Learn More
Don't Take Chances! Call the Top Disaster
Recovery Company in St. Paul and get cleaned up FAST!
WHY CHOOSE US?
FREE ESTIMATES

AVAILABLE 24/7/365

60 MINUTE RAPID RESPONSE

FULLY LICENSED AND INSURED

WE WORK WITH YOUR INSURANCE COMPANY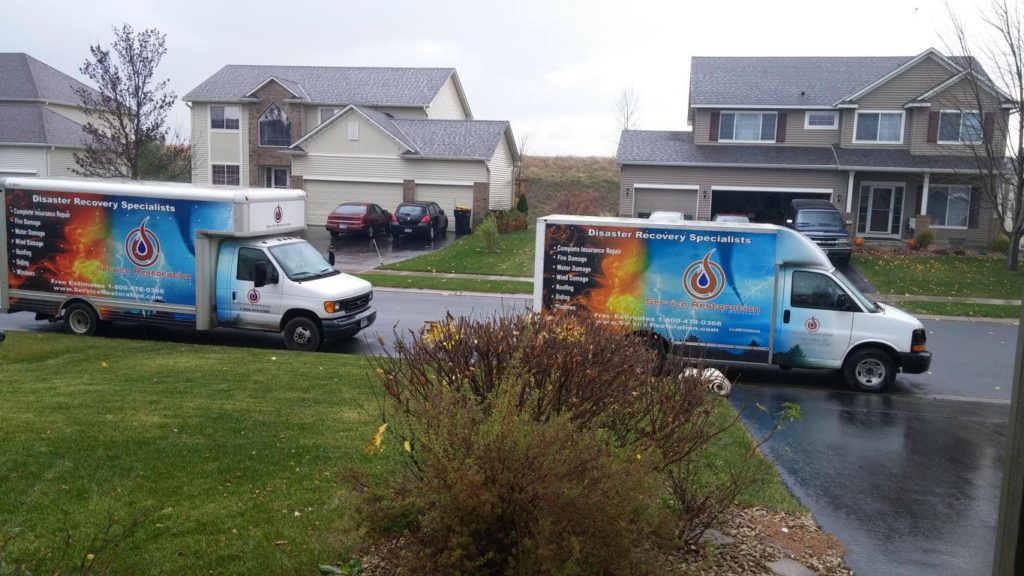 St. Paul WATER DAMAGE RESTORATION AND CLEANUP
Suffering from an unexpected catastrophe in St. Paul? Call us for help with emergency water damage restoration in St. Paul. Service Restoration of St. Paul has the best certified local technicians ready to respond 24/7 to assist you with water damage, flooding, storm and fire disasters. Call our local technicians at (651) 369-7842 any time day or night! Our water damage restoration specialists know the needs of St. Paul residents. We will take care of your problems and make your home feel like a real home again. Whether you have just suffered from a flood, had a plumbing accident, or experienced a fire, we are ready to help you. Our services include residential and commercial water damage restoration, residential and commercial fire damage restoration, residential and commercial mold remediation, sewage cleanup, flooded basement cleanup, and storm damage restoration. We've got it all covered, no matter what problem you might be facing.
EMERGENCY WATER DAMAGE REPAIR – FIRE, FLOOD & STORM DAMAGE THROUGHOUT St. Paul
If your home or business has water damage, mold damage, damage from leaky sewage pipes, and any other kind of damage caused by water, call Service Restoration St. Paul. We also specialize in mold remediation, fire damage repair, sewage clean up, and storm damage repair. We serve the St. Paul, MN area and can respond to your calls 24/7. Flood, storm, and other types of water damage can leave permanent damage to your home or office. Without specialized and professional help, you can soon find the conditions unlivable. Call us and let us help take your home back to its glory days!
Water damage can produce serious and dangerous mold to grow, making anyone inside the building sick. This includes black mold, which can develop from different kinds of damage but is particularly dangerous when it comes from sewage leaks. Sewage leaks are very serious because they can not only cause mold but also cause illness from contamination into the tap water supply of the home or office. Furthermore, water damage can cause structural weakness when the damage was to things like foundational walls or support joists. If you live in Minnesota, call Service Restoration St. Paul today. The lines are open 24/7!
We work with all major insurance providers

Working with a proper restoration company can be a breeze. Everything is literally done for you, you just have to stand back and let us do what we do best. Most of our services are covered by most insurance companies. If you don't understand what to do for your insurance company we can help. We have worked with most of the carriers as well as several adjusters over the years. This allows us to know and understand what information they are looking for. Most insurance company claims are not hard, but there are certain steps they want you to follow. We understand and know most of these basic steps are the same for most insurance companies and can help.
CUSTOMER REVIEWS & TESTIMONIALS
"We are thrilled with Restoration Services and their fast turn-around time is amazing! They had our home back to normal in just under a day!"